Love. Love is what brings us together today.
As most of you probably know, my most favorite romance ever is that of Luke Skywalker and Mara Jade in the Star Wars Expanded Universe. I just love everything about them ever.
In celebration of Valentine's Day, what better way then to list my favorite L/M moments? :D
1. Luke gives Mara his old lightsaber - The Last Command by Timothy Zahn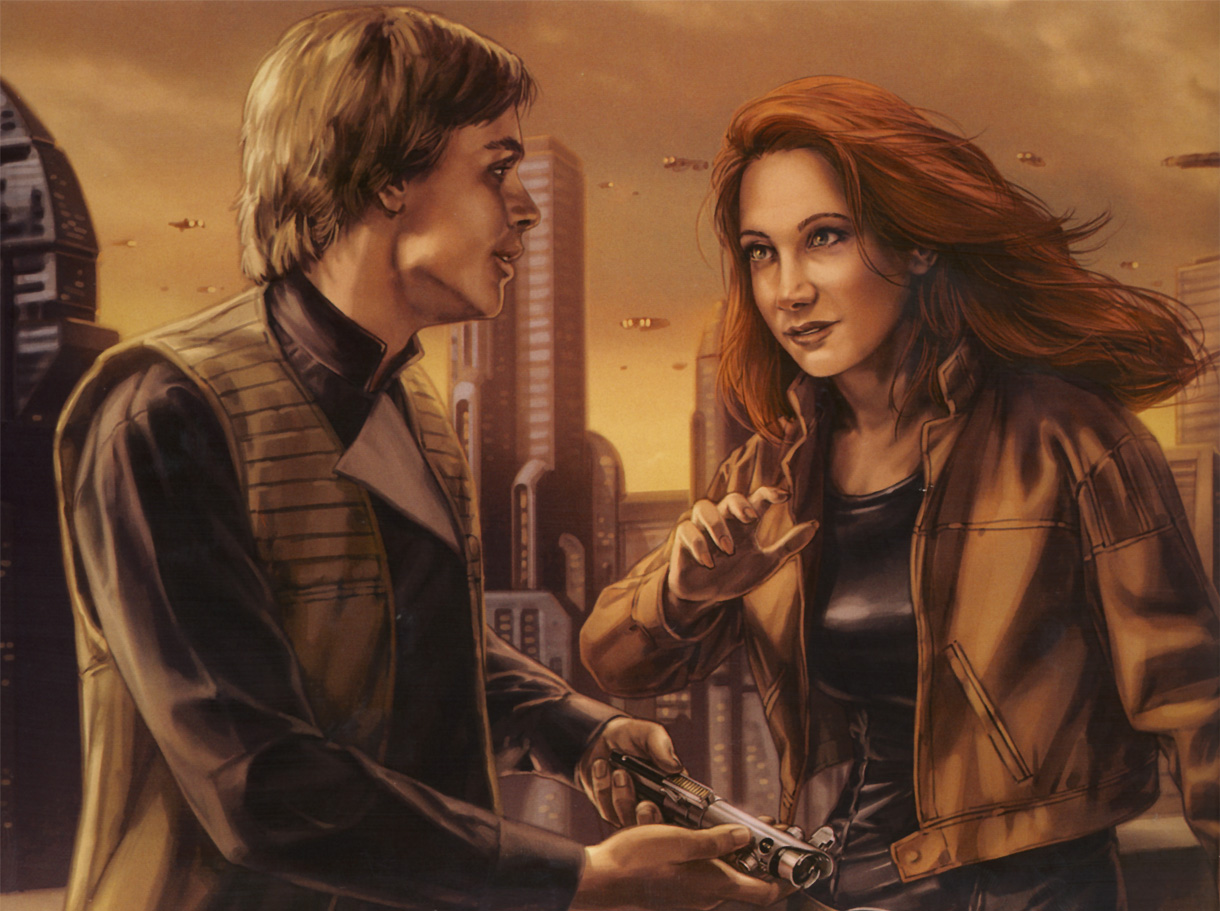 Artwork: Chris Trevas, Jedi vs. Sith: The Essential Guide to the Force
And that's not just a euphemism!

2. "So. You want to get off me, or were you just getting comfortable?" - Specter of the Past by Timothy Zahn

Artwork: redtenko, deviantart.com
No, he doesn't want to get off you, Mara.

3. The Force bond - Vision of the Future by Timothy Zahn
And she knew that even as he lay open before her eyes, so also her heart and spirit were open before his.
Yet it wasn't frightening or humiliating as she might have expected. As she would have expected. It was instead something completely exhilarating. Never before had she experienced such a depth and closeness to another person, a person who understood her as intimately as she understood him. Never had she known such a relationship could even exist.
And never before had she realized how badly she wanted such a relationship.

4. The proposal - Vision of the Future by Timothy Zahn
He grimaced. "You're not going to make this easy for me, are you?" he growled.
"Oh come now," she said, mock accusingly. "When have I ever made anything easy for you?"
"Not very often," he conceded. Visibly bracing himself, he reached over and took her hands again. "Mara...will you marry me?"
"You mean if we get out of here alive?"
Luke shook his head. "I mean regardless."
Under other circumstances, she knew, she would probably have considered herself honor-bound to make him sweat, just a little. But with the water still rising below them, such games seemed rather pointless. Besides, there was no reason for old defensive patterns to come into play. Not now. Not with him. "Yes," she said. "I will."

5. The kiss - Vision of the Future by Timothy Zahn

Artwork: FalconFan, deviantart.com
He took a deep breath. "I love you, Mara."
Her eyes blinked open, blinked again as she chased the water from them. "Hi," she said, breathing heavily as she grabbed his arm and maneuvered herself upright. "I see we made it."
"Yes," Luke said, taking her in his arms and holding her tightly, his tension and fear evaporating into a mist of utter calm and relief. The vision had been passed, and Mara had survived it.
And they were together again. Forever.
"Yes," Mara murmured. "Forever."
They loosened their grips on each other, just slightly...and standing together in the cold water, their lips came together in a kiss.

6. The Jedi wedding with Bruce Willis - Union by Michael Stackpole

Artwork: Union
7. Mara's "Farmboy" musings - Survivor's Quest by Timothy Zahn
Farmboy--the word ran affectionately through Mara's mind. She herself had been trained in ruthlessness, taught never to risk herself for those who threatened her and who, by definition, had therefore forfeited their right to live.
But Luke didn't see things that way. Even as the years had grown and matured him, the inner core of idealism and mercy he'd brought with him out of that moisture farm on Tatooine had never faltered. Others might sneer at that, she knew, or use his farming background as an insult.
But for her, the title was an acknowledgment of his moral high ground, a large part of what she loved and admired most about her husband. And at the end of the day, she slept better for knowing that even their deadliest opponents had been given every chance they could possibly hope to receive.

8. A quiet moment on Dantooine - Dark Tide I: Onslaught by Michael Stackpole
"I think I'd rather spend the time with my husband." Mara reached up and grabbed a handful of Luke's tunic, then pulled his face down to hers and kissed him. "Stay here with me. Tell me a story of Belkadan and a Jedi Master with two blades. Spending time with my husband is the best medicine on Dantooine, and I will gladly take as much as you can spare."

9. Mara's pregnancy - Balance Point by Kathy Tyers
Then she sensed something weirdly familiar. Besides the tumor-like echo of her own cellular disease--completely familiar, after fighting her disease for this long--she sensed another human life-signature.
It was Luke's.
By all the star dragons ever spawned, that could mean only one thing.
Mara's eyes flew open. Her arms and legs stiffened. Pregnant?
...
Then she folded around Luke, embracing his shoulders. He struggled up off his knees, then pulled her to her feet. His arms tightened around her back and her waist. His lips pressed hard against her mouth, his breath tasted sweet and musky, and at the back of her mind, she could feel him rejoicing.

10. Luke Skywalker vs. the red devourer - Enemy Lines II: Rebel Stand by Aaron Allston

Artwork: Japanese cover of Rebel Stand
"Luke, I don't want to discourage your curiosity, but I have to remind you, if something goes wrong, this is an exceptionally embarrassing way to die."
Luke grinned at Mara. "I'll trust you to improve the story. Luke Skywalker goes out in a blaze of glory in battle with a hideous red devourer."
...
Mara suppressed a laugh; it came out as a cough. "Luke, before you step out and join us, out of respect for those of us you're not married to, you might want to be sure that you're presentable."
Luke glanced down. His torso was bare. He reached down into the goo. The submerged portions of his garment were missing, too.
He reached the edge of the tank and stood close to it. "I guess I forgot to tell the stuff, 'My clothes aren't food, either.'"
"I guess you did."
"Could you pass me my pack?"

Agreements? Disagreements? Just want to tell me I'm a nerd? Let me know! :D
Comments {14}